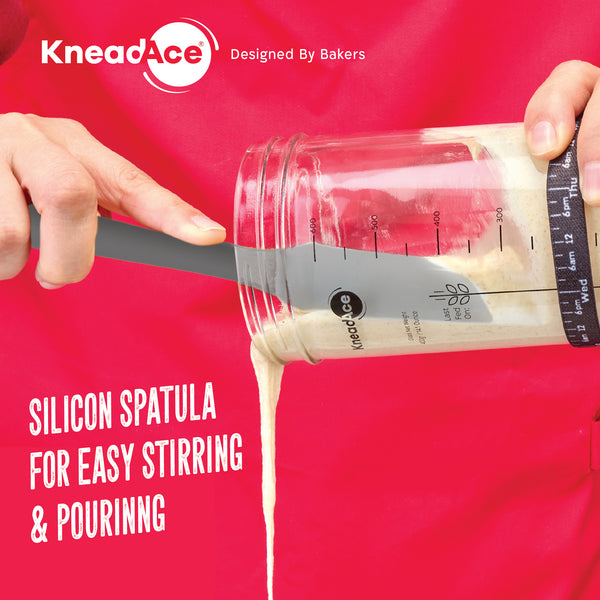 KneadAce® Sourdough Starter Jar
A sourdough Jar Like No Other with Special Features
Shipping included - Temporarily Available for USA orders only. For International orders, please use the "Buy on Amazon.com" link above .
This sourdough starter jar has absolutely everything you need to create the perfect wild yeast. Wide top for easy adding, stirring, and easy cleaning, graduated amount line printed clearly on  the jar, last fed on line, which relates directly to the graduated date band so you can see at a glance the last time you fed your starter and the weight of the jar printed on the jar so you can easily calculate the weight of your starter.
The Unique Feeding Day Tracker Band - marked with the days of the week and the time of day gives you an accurate indication of the starting feeding level, when you last fed your starter and how long it has taken to double in size. Simply move the band sideways to indicate the time of feeding and up and down to mark your starting feeding level. Sour dough bread baking is the most popular hobby of our time and you simply can't go wrong by giving this as a gift to anyone who loves baking bread.
The Perfect Size and Shape – At 24 oz. this glass jar is large enough to provide you with a starter for around 3 loaves of bread while not taking up too much precious space in your fridge. It's round, so there are no corners and your starter can be moved around freely. The wide top enables easy feeding. The stick-on thermometer, measuring band, dough scraper, unbleached sewn to size cloth cover and aluminum lid are the ultimate additions to this complete kit. 

Finally, A Sourdough Starter Vessel That Looks Good – You'll make beautiful, homemade creations with your sourdough starter but in order to do that, it will spend a great deal of time on your countertop where it will be kept for daily feeding or while being "woken up" when it comes out of the fridge. Throw out your old jars, the KneadAce® Jar is attractive as well as being truly efficient and all you need for the perfect starter dough.
Your Satisfaction Guaranteed - The KneadAce

®

Sourdough Starter Jar Set has been developed by an industrial designer with a passion for baking. We do everything in our power to ensure you receive the perfect product. If you have any concerns about this purchase, feel free to contact us and we'll work it out with you. Buy your KneadAce

®

Sourdough Starter Kit today and enjoy the process like never before. 
Really Handy Tools For Starting
I am just getting started with sour dough, and the jar with the ability to mark how much my fed starter has grown has been incredibly helpful! The spatula was also well thought out as most kitchen tools don't fit very well into a tall, narrow jar. Love it!
LOVE IT
Finally found the perfect jar for my sourdough starter. The long dough scraper spatula is quite useful & the tracker band helps measure accurately. Wonderful product for a sourdough baker!
Starter jar set
I just began with my first sourdough starter passed in as a gift- so I really didn't want to mess this up! The entire set is such a great idea and so easy to use! Helps keep you on track and hard to mess things up!! It's perfect- and a perfect gift as well for some doing it with you!!
an excellent well designed & built product
the sourdough jar was delivered VERY well packed. opening it, i found an extremely well designed product. its' maker obviously gave careful thought to it's design. the jar is glass, of a generous size, so there is no worry about leaching chemicals into your starter, it is round; so easy to clean, a volume scale and the tare weight of the jar are printed on the side so you can easily accurately add water & flour, there is a "last fed on:" vertical line along with an elastisized band with days & times printed on it for keeping track of feedings, the band can also be set at the level the starter was at when last fed, so you can easily see it's rise. there is a strip thermometer that sticks to the jar. there is a screw on lid for when it is in the fridge, & a porous elastisized cloth top for when it's on the counter. & the included spatula has a wooden handle.
the only thing this sourdough jar does not include is the starter culture... but... they do have recipe's on their website.
the knead ace sourdough starter jar is the best i have seen, i highly recommend it.
Handy Tool
I actually bought one of these, used it a while and bought a second one. I really like the "time band" that comes with it. I do wish the tip of the spatula was a little stiffer but I may buy a third one so you know I like this product.